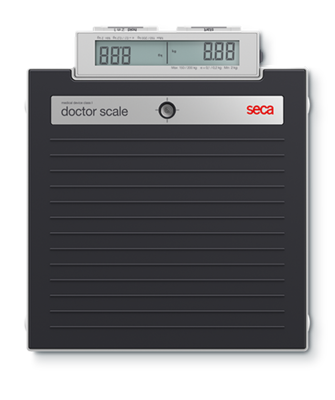 seca
874 dr
Product Number

874 1341 139
Flat scale with customizable label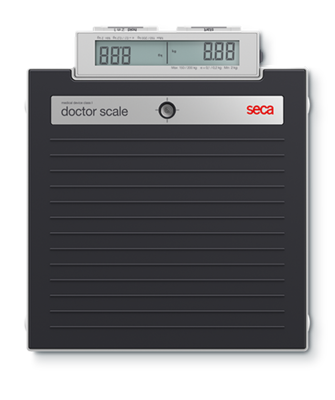 $
$ 321.00
Plus delivery costsShipping Costs
Above $ 100 order value: ‎$ 0
Below $ 100‎ order value: ‎$ 5
Order today, ships within 24 hours!
Quick Overview
Key-Technical Data
Product width
12.6 inch
321 mm
Product height
2.4 inch
60 mm
Product depth
14.2 inch
361 mm
Graduation
50 g < 150 kg > 100 g
0.1 lbs < 330 lbs > 0.2 lbs
Description
Product Properties
Customizable label helps minimize scale misplacement
Inexpensive, reliable and durable: seca quality that pays off
Double display allows the doctor and patient to read simultaneously
Leveling feet for strong stability
Mother+child function for hassle-free weighing of toddlers
Make a name with the seca 874 dr
Seeing the name of the doctor or the hospital on the scale inspires confidence in the accuracy of the measurement and simply looks good. In addition to the name label, the seca 874 dr flat scale has a double display that displays the measurement result to both the doctor and the patient. Foot pedals ensure comfortable operation while standing up and the mother+child function allows children to be weighed on the mother's arm.
Key-Technical Data
Product width
12.6 inch
321 mm
Product height
2.4 inch
60 mm
Product depth
14.2 inch
361 mm
Graduation
50 g < 150 kg > 100 g
0.1 lbs < 330 lbs > 0.2 lbs
Technical Data
Technical Data
Platform width
11.3 inch
288 mm
Platform height
2.4 inch
60 mm
Platform depth
11.0 inch
280 mm
Product width
12.6 inch
321 mm
Product height
2.4 inch
60 mm
Product depth
14.2 inch
361 mm
Graduation
50 g < 150 kg > 100 g
0.1 lbs < 330 lbs > 0.2 lbs
Batteries, quantity and type
6 X AA
Functions and Properties
Auto-HOLD
Automatic switch-off
Mobile use
Mother+child function
lbs/kg switch-over
Accessories