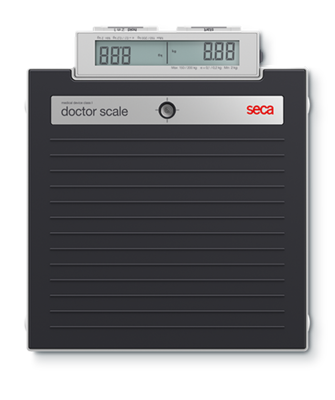 seca 874 dr
Product Number 874 1341 139
Its name speaks for itself: the seca doctor scale
Further details

$

$ 310.00*

Plus delivery costs
Product Properties
User-friendly because it was specially designed for use in medical practices.
Impressive long service life. Robust quality production with an innovative design.
Double display for taking readings simultaneously from various positions.
It is also possible to weigh infants stress-free using the optional mother/child-function.
Customized label for individual personalization available.
Robust scale with an appealing design.
The doctor scale seca 874 dr is specially designed for use in medical practices. Equipped with an LCD display that is readable from two directions and the comfortable foot switch makes this flat scale an ideal tool for any medical facility. It is light enough that it can be used in multiple exam rooms and robust enough that its performance capability can be enjoyed for years. It is a true seca quality product.
Technical Data
Net weight: 9.0 lbs / 4.1 kg
Platform width: 11.3 inch / 288 mm
Platform height: 2.4 inch / 60 mm
Platform depth: 11.0 inch / 280 mm
Product width: 12.6 inch / 321 mm
Product height: 2.4 inch / 60 mm
Product depth: 14.2 inch / 361 mm
Power supply: Batteries
Graduation: 50 g < 150 kg > 100 g / 0.1 lbs < 330 lbs > 0.2 lbs
Capacity: 200 kg / 440 lbs
Batteries, quantity and type: 6 X AA
Functions and Properties
Auto-HOLD
Automatic switch-off
Mobile use
Mother/child function
kg/lbs switch-over