PC Software: full service, complete control.
With the software application seca emr flash 101, the EMR validated seca products can transmit results directly into any digital Electronic Medical Record system. The seca analytics 115 goes one step further. This PC software makes it possible to process and interpret height and weight from seca measuring devices and scales plus the measurement results from seca mBCA and seca mVSA. Thus our software solutions help with early detection of disease, documentation of therapy success and substantive advice to patients.
---
seca emr flash 101
Transfer weight or height directly or print without pushing a button? No problem with seca emr flash 101! Using the intuitive software, the measured values are sent from each wireless seca product to a PC equipped with the seca 456 USB adapter.
Click to Learn More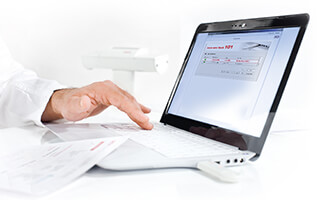 ---
seca analytics 115
With the networked software seca analytics 115 you can process measurement data from your EMR validated products on your PC and provide findings on cardiometabolic risk or information about rehabilitation progress. Our software will increase significantly the quality of your medical examinations.
Click to Learn More