Recommendation Health Club
It's essential for a health club to have the latest and greatest in cutting-edge technology and to continually keep members motivated and focused on their target fitness goals. Beyond providing scales and measuring systems, seca takes a step further with the first and only body composition analyzer designed for medical use and validated against the four compartment model – the gold standard for fat mass estimation. Distinguish between muscle gain and fat loss and show members the real health benefits even when their weight remains the same. Tailor fitness and personal training programs, and educate clients on how their diet, lifestyle, and exercise regimen are influencing their overall health. Member retention starts here!
Medical Body Composition Analyzer for determining body composition while standing
Product Details
BIA measuring method
8-point Bioelectrical Impedance Analysis
BIA measuring frequency
1; 1.5; 2; 3; 5; 7.5; 10; 15; 20; 30; 50; 75; 100; 150; 200; 300; 500; 750; 1,000 kHz
BIA measurement segments
Right arm, left arm, right leg, left leg, right half of body, left half of body, torso
BIA measuring period
17 seconds
Our Recommendation
A body composition analyzer that delivers medically precise results.
The seca mBCA 514 is ideal for monitoring weight and body composition. The development of fat mass and muscle mass allow conclusions to be drawn about training progress and accompanying nutrition. The segmental measurement of muscle mass in the arms, legs, and torso and its comparison with normal ranges simplify data interpretation for athletes in training. With the press of a key, results can be printed out in clearly organized graphics.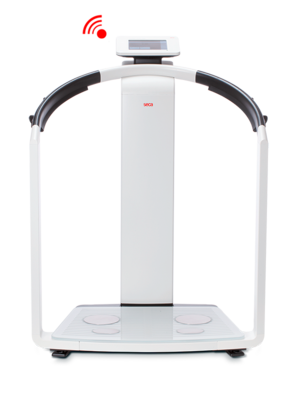 EMR-validated column scale with 660 pounds capacity
Product Details
Graduation
50 g < 150 kg > 100 g
0.1 lb < 330 lbs > 0.2 lb
Net weight
33.5 lbs
15.2 kg
Product width
14.2 inch
360 mm
Product height
36.6 inch
930 mm
Product depth
20.5 inch
520 mm
Our Recommendation
The multi-faceted talent with network capability.
Scales are rarely used as frequently as in a fitness studio, where members check their training results by themselves. Speed and precision are top criteria for measurements, while quality and durability are demanded of a measuring system under heavy use. Since 1840, seca has consistently expanded its expertise in medical measuring and weighing. The seca 703 digital column scale with wireless transmission offers great stability with its cast iron base and high weighing capacity of up to 660 lbs / 300 kg so that the scale is always available for members' use. Height can be obtained with the included measuring rod seca 220 and together with weight measurements, wirelessly transmitted to a seca wireless printer or via the software seca emr flash 101 to a PC for documentation purposes.