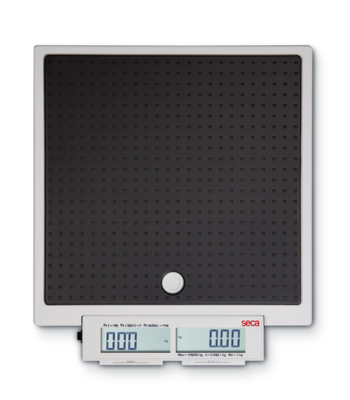 seca
874
Product Number

874 1321 009
Flat scale with foot switches and double display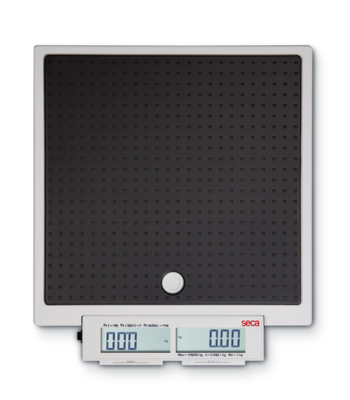 $
$ 385.00
Plus delivery costsShipping Costs
Above $ 100 order value: ‎$ 0
Below $ 100‎ order value: ‎$ 5
Order today, ships within 24 hours!
Quick Overview
Key-Technical Data
Graduation
50 g < 150 kg > 100 g
0.1 lb < 330 lbs > 0.2 lb
Product width
12.6 inch
321 mm
Product height
2.4 inch
60 mm
Product depth
14.2 inch
361 mm
Description
Product Properties
Double display lets the doctor and patient read simultaneously
Reliable and durable: seca quality that pays off
May be used standing up thanks to the foot switches
Can weigh 10,000 times with a single set of batteries
Mother+child function to weigh toddlers
Read twice as well
With its double display, the seca 874 presents the result to both the doctor and the patient. Light weight, high battery capacity (approx. 10,000 weighings) and foot pedals for operating while standing ensure comfortable work. The most important feature of this scale, however, is the globally proven resilience, which gives it a long life, whether in an air-conditioned room or in a temporary practice in tropical regions.
Key-Technical Data
Graduation
50 g < 150 kg > 100 g
0.1 lb < 330 lbs > 0.2 lb
Product width
12.6 inch
321 mm
Product height
2.4 inch
60 mm
Product depth
14.2 inch
361 mm
Technical Data
Technical Data
Graduation
50 g < 150 kg > 100 g
0.1 lb < 330 lbs > 0.2 lb
Batteries, quantity and type
6 X AA
Product width
12.6 inch
321 mm
Product height
2.4 inch
60 mm
Product depth
14.2 inch
361 mm
Platform width
11.3 inch
288 mm
Platform height
2.4 inch
60 mm
Platform depth
11.0 inch
280 mm
Functions and Properties
Auto-HOLD
Automatic switch-off
lbs/kg switch-over
Mother+child function
Accessories