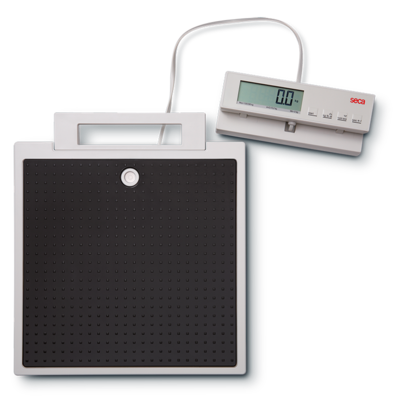 seca
869
Product Number

869 1321 004
Flat scale with cable remote display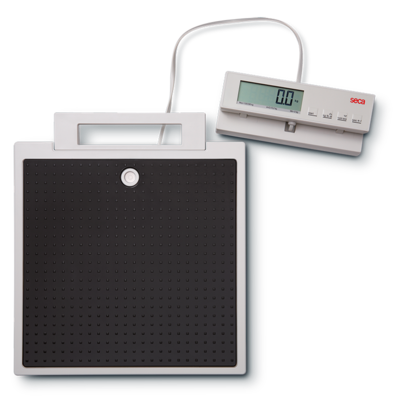 $
$ 299.00
Plus delivery costsShipping Costs
Above $ 100 order value: ‎$ 0
Below $ 100‎ order value: ‎$ 5
Order today, ships within 24 hours!
Quick Overview
Key-Technical Data
Product width
12.6 inch
321 mm
Product height
2.4 inch
60 mm
Product depth
14.0 inch
356 mm
Graduation
100 g < 150 kg > 200 g
0.2 lbs < 330 lbs > 0.5 lbs
Description
Product Properties
Cable remote display for wall mounting or table installation
Reliable and durable: seca quality that pays off
Support feet for strong stability
Can be powered with batteries for mobile use or a power adapter for stationary use
What was difficult is now easy.
A 6.5 foot cable connects the display with the weighing base. Advantage: the display can be set up separately from the base and read from its position on the wall or desk. Additional convenience is supplied by the many extra weighing functions: BMI for nutritional conditions, HOLD to keep measurements displayed and TARE for weighing small children held in an adult's arms. It is suitable for stationary or mobile use thanks to its handle, compact size, low weight and a leveling base for set-up on all types of surfaces.
Key-Technical Data
Product width
12.6 inch
321 mm
Product height
2.4 inch
60 mm
Product depth
14.0 inch
356 mm
Graduation
100 g < 150 kg > 200 g
0.2 lbs < 330 lbs > 0.5 lbs
Technical Data
Technical Data
Cable length
78.7 inch
2.0 m
Platform width
11.3 inch
288 mm
Platform height
2.4 inch
60 mm
Platform depth
10.9 inch
278 mm
Product width
12.6 inch
321 mm
Product height
2.4 inch
60 mm
Product depth
14.0 inch
356 mm
Power supply
Batteries
Optional power adapter
Graduation
100 g < 150 kg > 200 g
0.2 lbs < 330 lbs > 0.5 lbs
Batteries, quantity and type
6 X AA
Functions and Properties
Automatic switch-off
BMI
HOLD
Mobile use
TARE
kg/lbs/sts switch-over
lbs/kg switch-over
Accessories