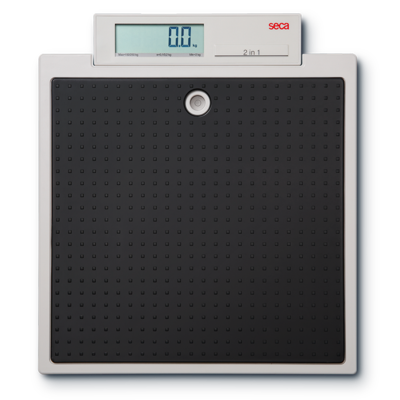 seca
876
Product Number

876 1321 004
Flat scale with foot pedal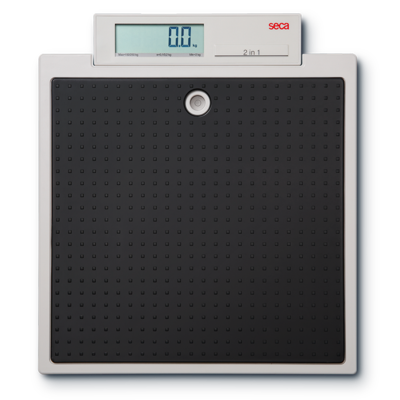 $
$ 266.00
Plus delivery costsShipping Costs
Above $ 100 order value: ‎$ 0
Below $ 100‎ order value: ‎$ 5
Order today, ships within 24 hours!
Quick Overview
Key-Technical Data
Product width
12.6 inch
321 mm
Product height
2.4 inch
60 mm
Product depth
14.0 inch
356 mm
Graduation
100 g < 150 kg > 200 g
0.2 lbs < 330 lbs > 0.5 lbs
Description
Product Properties
Precise weighing technology for medical use
May be used standing up thanks to the foot pedals and tap-on function
Leveling feet for strong stability
Can weigh 10,000 times with a single set of batteries
Mother+child function to weigh toddlers
A lightweight for heavyweight use.
Scales intended for mobile use have to be lightweight. The compact seca 876 weighs only 8,6 lbs, nevertheless very stable and suitable for patients weighing up to 550 lbs. It stands firmly on four leveling bases that guarantee stability, even when small children are weighed while held by an adult. The mother/child function determines the tare of the weight with just the touch of a button.
Key-Technical Data
Product width
12.6 inch
321 mm
Product height
2.4 inch
60 mm
Product depth
14.0 inch
356 mm
Graduation
100 g < 150 kg > 200 g
0.2 lbs < 330 lbs > 0.5 lbs
Technical Data
Technical Data
Platform width
11.3 inch
288 mm
Platform height
2.4 inch
60 mm
Platform depth
10.9 inch
278 mm
Product width
12.6 inch
321 mm
Product height
2.4 inch
60 mm
Product depth
14.0 inch
356 mm
Graduation
100 g < 150 kg > 200 g
0.2 lbs < 330 lbs > 0.5 lbs
Batteries, quantity and type
6 X AA
Functions and Properties
Automatic switch-off
Mobile use
Mother/child function
Tap-on automatic switch-on
kg/lbs/sts switch-over
lbs/kg switch-over
Accessories