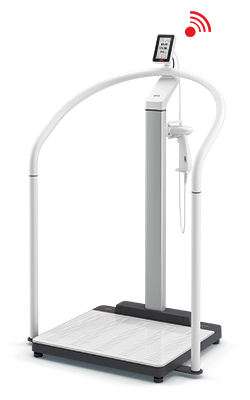 seca
Scale-up Line
Product Number

ONSHMINTNN
EMR-validated handrail scale with ID-Display™ and optional height measurement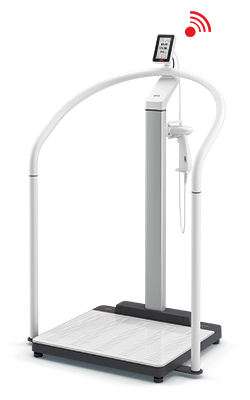 $
$ 2,554.00
Plus delivery costsShipping Costs
Above $ 100 order value: ‎$ 0
Below $ 100‎ order value: ‎$ 5
Order today, ships within 24 hours!
Quick Overview
Key-Technical Data
Net weight
55.1 lbs
25.0 kg
Product width
31.5 inch
801 mm
Product height
50.4 inch
1,280 mm
Product depth
25.7 inch
653 mm
Scope of Delivery
ID-Display
Power adapter
flat scale seca 654
handrail seca 455
Description
Product Properties
Display shows user and patient names or IDs for increased patient safety
Data transmission controlled by touchscreen
Safe weighing with a stable handrail
Lightweight, sophisticated design and extremely robust thanks to steel handrail that is directly attached to the cast iron pedestal
Large platform made of tested seca Bearclaw Glass® for absolute breakage resistance and perfect hygiene
Convenient transport with extremely robust rubber wheels
Optional panda bear facilitates measuring and weighing of children
EMR-validated: transmit measured data directly to any electronic medical record system or printer
The first scale that knows your name
The handrail for these particularly high-quality, secure and pioneering support scales from seca is firmly anchored in the cast iron core of the platform and designed for various handle heights. It ensures the safety required for patients with restricted mobility and relieves the staff of the task of supporting and holding them. The unique ID-Display of the seca Scale-up Line enables patients to be identified during measurement and increases the transparency and security of measurement integration in the digital patient record (EMR).
Key-Technical Data
Net weight
55.1 lbs
25.0 kg
Product width
31.5 inch
801 mm
Product height
50.4 inch
1,280 mm
Product depth
25.7 inch
653 mm
Scope of Delivery
ID-Display
Power adapter
flat scale seca 654
handrail seca 455
Technical Data
Technical Data
Net weight
55.1 lbs
25.0 kg
Platform width
23.6 inch
600 mm
Platform height
2.8 inch
70 mm
Platform depth
18.4 inch
467 mm
Product width
31.5 inch
801 mm
Product height
50.4 inch
1,280 mm
Product depth
25.7 inch
653 mm
Ports
LAN
USB bar code scanner
Wi-Fi
Power supply
Power adapter
Functions and Properties
EMR-validated
Wi-Fi
Acoustic signals can be activated
Auto-BMI
Auto-CLEAR
Auto-HOLD
Extra rugged
Confirm button
CLEAR
Adjustable damping
Backlighting
HOLD
Mother+child function
Pre-TARE
RESET
TARE
Transport wheels
Display of user and patient name or ID
Display date of birth patient
Rotatable and tiltable display
Ethernet
Standby mode
Touchscreen
lbs/kg switch-over
Accessories