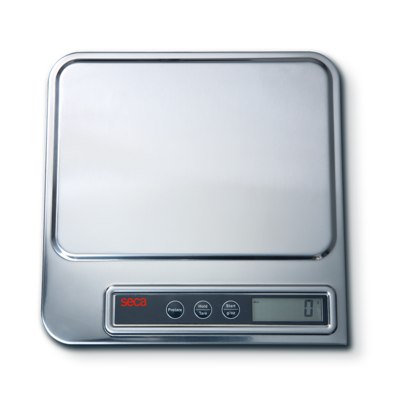 seca
856
Product Number

856 1314 009
Organ and diaper scale with stainless steel cover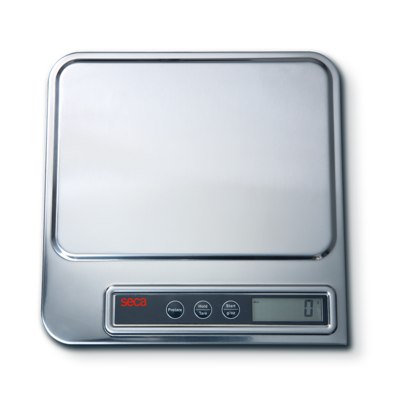 $
$ 495.00
Plus delivery costsShipping Costs
Above $ 100 order value: ‎$ 0
Below $ 100‎ order value: ‎$ 5
Order today, ships within 24 hours!
Quick Overview
Key-Technical Data
Graduation
1 g < 3 kg > 2 g
0.05 oz < 6.6 lbs > 0.1 oz
Product width
10.4 inch
265 mm
Product height
2.1 inch
53 mm
Product depth
10.4 inch
265 mm
Description
Product Properties
Complete stainless steel-surface reduces contamination
Easy to clean and disinfect
Scale completely sealed from moisture
Pre-TARE function for permanent use with the container of your choice
Increase in metal housing protects display from liquid
Precision for safety and health
The organ scale seca 856 has been designed to meet the specific requirements in its area of application. The raised display is protected from soiling by fluids and the specially sealed battery compartment keeps moisture away from the electronic parts. This scale also fulfills tough hygienic standards with a sealed stainless steel surface that's easy to clean. With the aid of the Pre-TARE function, the additional weight of containers can simply be deducted for precise determination of net weight. The fine one-gram graduation ensures highly precise results.
Key-Technical Data
Graduation
1 g < 3 kg > 2 g
0.05 oz < 6.6 lbs > 0.1 oz
Product width
10.4 inch
265 mm
Product height
2.1 inch
53 mm
Product depth
10.4 inch
265 mm
Technical Data
Technical Data
Graduation
1 g < 3 kg > 2 g
0.05 oz < 6.6 lbs > 0.1 oz
Batteries, quantity and type
4 X AAA
Product width
10.4 inch
265 mm
Product height
2.1 inch
53 mm
Product depth
10.4 inch
265 mm
Platform width
9.3 inch
235 mm
Platform height
0.2 inch
5 mm
Platform depth
6.7 inch
170 mm
Functions and Properties
TARE
Pre-TARE
HOLD
Automatic switch-off
lbs/kg switch-over