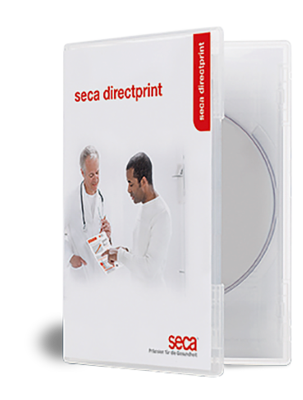 seca
directprint
Product Number

101 0001 010
Software module for individual assessment of patient's weight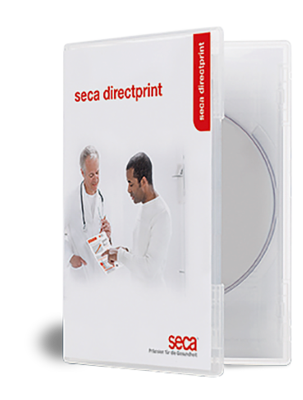 $
$ 234.00
$ 0.00
Plus delivery costsShipping Costs
Above $ 100 order value: ‎$ 0
Below $ 100‎ order value: ‎$ 5
Order today, ships within 24 hours!
Quick Overview
System Requirements
Supported operating system
Windows ® 8.1, Windows ® 8, Windows ® 7 (SP1), Windows ® Vista (SP1, SP2)
Processor
1.2 GHz or higher
Hard disk space
minimum 1 GB
Display
1024 x 768, High Color (16-bit), 32-bit (recommended)
Ports
USB port (2.0) or serial interface (RS232)
Description
Product Properties
Personalized patient printout. Eases the workload of physicians and nursing staff.
Simple process. Easy for all staff members to use.
Quick results. With the press of a key in less than one minute.
Unique system solution. Gives you the decisive advantage in medical practice management.
A lightweight printout for a weighty subject.
The seca directprint is the ideal tool for raising awareness about maintaining a healthy weight. Not only does it tell your patients their height, weight and BMI, but it compiles their measurements into an easy-to-read one page printout which includes sound information and tips on weight management. In seconds, it provides the ideal ice-breaker for your overweight patients by drawing attention to the subject of overweight and obesity without making them feel uncomfortable. With the press of a button, your patients will receive a personalized printout outlining their nutritional condition based on their BMI. The seca directprint is available in five different versions: overweight, normal weight, underweight, weight only and children.
System Requirements
Supported operating system
Windows ® 8.1, Windows ® 8, Windows ® 7 (SP1), Windows ® Vista (SP1, SP2)
Processor
1.2 GHz or higher
Hard disk space
minimum 1 GB
Display
1024 x 768, High Color (16-bit), 32-bit (recommended)
Ports
USB port (2.0) or serial interface (RS232)
Accessories
System
System
As part of the seca 360° wireless product world, this product is system-compatible with the following seca 360° wireless products: