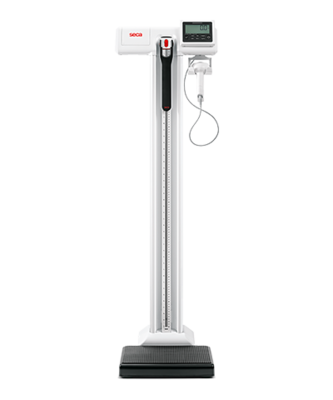 seca
797
Product Number

797 1721 009
EMR-validated column scale with eye-level display and Wi-Fi function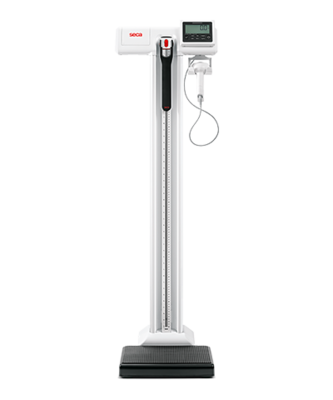 $
$ 792.00
Plus delivery costsShipping Costs
Above $ 100 order value: ‎$ 0
Below $ 100‎ order value: ‎$ 5
Order today, ships within 24 hours!
Quick Overview
Key-Technical Data
Net weight
28.9 lbs
13.1 kg
Product width
16.1 inch
410 mm
Product height
53.4 inch
1,356 mm
Product depth
22.7 inch
576 mm
Measuring range (digital)
122 - 230 cm
Scope of Delivery
Power adapter
Scanner mount
Description
Product Properties
Medical-grade, robust scale for years of use with high patient volume
Digital measuring rod with an extra long measuring range
Two-line display shows height and weight
Damping system and Auto-HOLD guarantee quick and precise weighing
8-year warranty (4x the industry standard)
Optional: Panda bear facilitates measuring and weighing of children
EMR-validated with built-in Wi-Fi module
The sophisticated way of integrating weight and height
With its Wi-Fi interface the seca 797 can be integrated directly into your EMR system. Measure weight with the tilt-proof full metal platform and determine height with the convenient digital measuring rod, identify patients with your connected USB scanner and send the measurements into the correctly assigned medical record. This workflow prevents transcription errors, ensures availability of all data and maximizes staff efficiency.
Key-Technical Data
Net weight
28.9 lbs
13.1 kg
Product width
16.1 inch
410 mm
Product height
53.4 inch
1,356 mm
Product depth
22.7 inch
576 mm
Measuring range (digital)
122 - 230 cm
Scope of Delivery
Power adapter
Scanner mount
Technical Data
Technical Data
Power supply
Batteries (optional)
Power adapter
Batteries, quantity and type
6 X AA
Net weight
28.9 lbs
13.1 kg
Interfaces
USB for barcode scanner
Wi-Fi
Product width
16.1 inch
410 mm
Product height
53.4 inch
1,356 mm
Product depth
22.7 inch
576 mm
Platform width
13.8 inch
350 mm
Platform height
2.3 inch
59 mm
Platform depth
16.5 inch
418 mm
Measuring range
10 - 230 cm
Measuring range (digital)
122 - 230 cm
Graduation measuring range
1 mm
Functions and Properties
TARE
HOLD
Auto-HOLD
Adjustable damping
Auto-BMI
Wi-Fi
Confirm button
Accessories