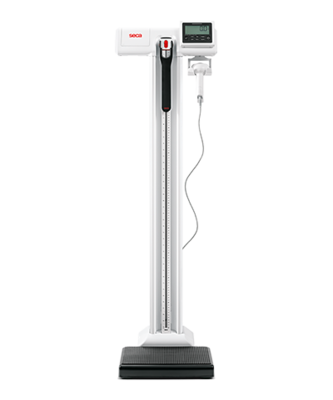 seca
787
Product Number

787 1721 009
EMR validated column scale with eye-level display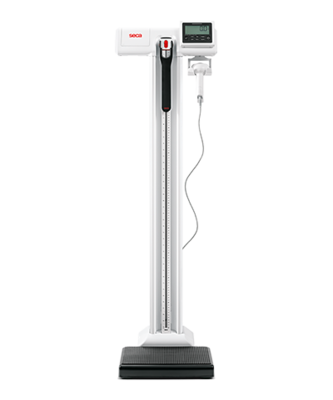 $
$ 555.00
Plus delivery costsShipping Costs
Above $ 100 order value: ‎$ 0
Below $ 100‎ order value: ‎$ 5
Order today, ships within 24 hours!
Quick Overview
Key-Technical Data
Net weight
28.4 lbs
12.9 kg
Product width
16.1 inch
410 mm
Product height
53.4 inch
1,356 mm
Product depth
22.7 inch
576 mm
Measuring range digital
122 - 230 cm
Description
Product Properties
Medical-grade, robust scale for years of use with high patient volume
Digital measuring rod with an extra long measuring range
Two-line display shows height and weight
EMR validated: Send results directly into the EMR
Damping system and Auto-HOLD guarantee quick and precise weighing

The price-performance champion of networkable measuring and weighing
The seca 787 is the ideal solution for networked weighing and measuring. It features an especially sturdy design with a tilt-proof full metal platform and a robust single piece column. All patients (especially those affected by obesity) will feel secure on the platform even when stepping on the edge of the base. The digital measuring rod allows for immediate BMI calculation. With an upgradable network module (seca 452) the seca 787 transmits height and weight measurements directly into your EMR system.
Key-Technical Data
Net weight
28.4 lbs
12.9 kg
Product width
16.1 inch
410 mm
Product height
53.4 inch
1,356 mm
Product depth
22.7 inch
576 mm
Measuring range digital
122 - 230 cm
Technical Data
Technical Data
Net weight
28.4 lbs
12.9 kg
Measuring range
10 - 230 cm
Platform width
13.8 inch
350 mm
Platform height
2.3 inch
59 mm
Platform depth
16.5 inch
418 mm
Product width
16.1 inch
410 mm
Product height
53.4 inch
1,356 mm
Product depth
22.7 inch
576 mm
Ports
prepared for seca 452 connection
Power supply
Batteries
Optional power adapter
Graduation measuring range
1 mm
Batteries, quantity and type
6 X AA
Measuring range digital
122 - 230 cm
Functions and Properties
EMR ready
Auto-BMI
Auto-HOLD
Automatic switch-off
Confirm button
Adjustable damping
HOLD
Foldable head positioner
Integrated measuring rod
TARE
Transport castors
swappable display
Accessories