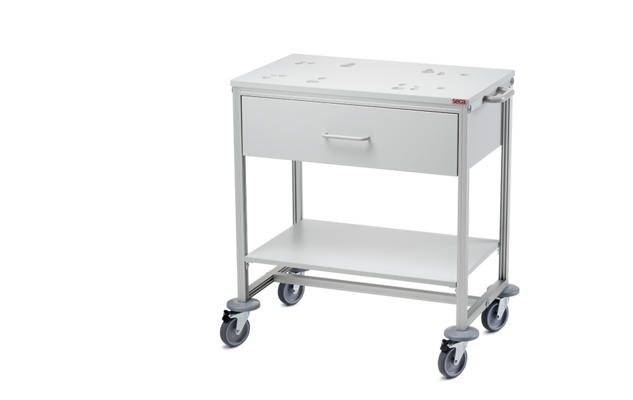 seca
403
Product Number

403 0000 009
Mobile cart with drawer for seca baby scales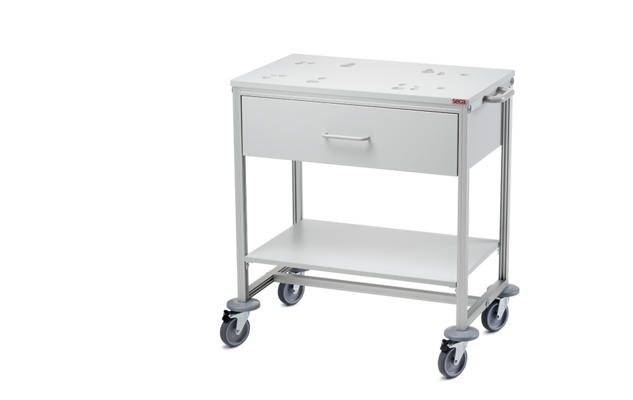 $
$ 869.00
Plus delivery costsShipping Costs
Above $ 100 order value: ‎$ 0
Below $ 100‎ order value: ‎$ 5
Order today, ships within 24 hours!
Quick Overview
Key-Technical Data
Net weight
60.6 lbs
27.5 kg
Product width
28.1 inch
715 mm
Product height
31.5 inch
800 mm
Product depth
17.1 inch
435 mm
Maximum load
45 kg
99.2 lbs
Description
Product Properties
Custom-made indentations in the surface hold seca baby scales firmly in place
Ideal working height
Integrated drawer and shelf offer extra storage space so you always have everything within reach
The perfect supplement to seca baby scales
The seca 403 cart is the ideal addition to seca baby scales. It was specially developed for safe and hygienic routine use in hospitals and medical practices. Customized indentations on the surface accommodates the scale's base and ensures the scale does not slip out of place. Two practical brakes keep the cart securely locked in place so babies can be weighed safely. Also, you can quickly move the baby scale to it's required location by pushing or pulling the cart by its handle. Compatible with seca baby scales (seca 727, seca 728, seca 374, 334, 354 and seca 333i).
Key-Technical Data
Net weight
60.6 lbs
27.5 kg
Product width
28.1 inch
715 mm
Product height
31.5 inch
800 mm
Product depth
17.1 inch
435 mm
Maximum load
45 kg
99.2 lbs